Denali - The Inner Journey (Day 5)
Denali National Park
September 9th 2017
Day 5
It got really cold up here last night. Fortunately, my 0°F sleeping bag is really comfortable and can keep me warm enough to go through very cold nights. Provided that I tighten the hood to a small opening letting just enough space for my mouth and nose to breathe in and out. When I woke up, the pain in my knee was gone. I felt energetic so I decided to swallow a quick breakfast and push ahead without further ado. I had picked mushroom soup for the third time when I exclaimed to myself: *Damn! Mushroom soup again!*. I had thrown away the box so there was no way to know which was which. But, in the end, even if I was tired of the earthy taste of this soup, it did wonders to warm me up. I was wearing all my layers and had left my backpack and most of my equipment inside the tent. I made the first steps toward the Anderson pass. Ghost walking on the sea of rocks, light as a feather.
Clouds were covering the valley. Snow was coating the scree's sides. The warmth produced by the fast movements of my legs was much needed to keep my spirit high. It felt like I was running on rocks like a fox, very lightly and twice faster as usual. I tried to stay high on the sides of the scree. I didn't want to engulf myself in the labyrinth down in the middle of the valley with its hills and many detours. Soon, I realized that the sides were much steeper than it looked and I was forced to get down on all fours, crawling on the sliding rocks. I got all warmed up real quick! Had to stop to breathe so I sat and looked back. I could barely see my tent. Where is it ? Should be on the right side... hmm... Is it this little yellow spot there? Yes!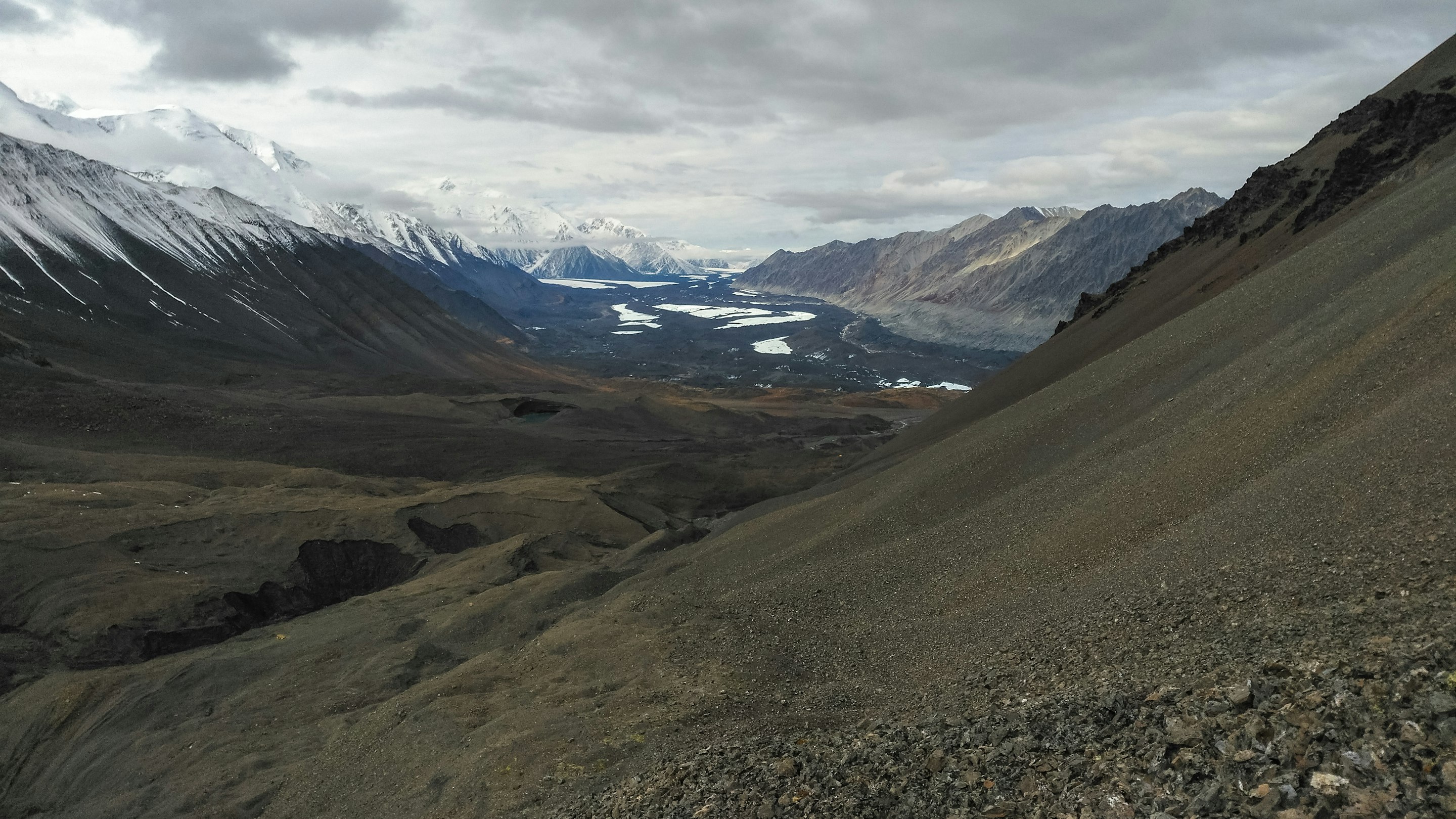 About three hours later, I arrived at the top of the mountain pass. Finally, I put the first steps in the fresh snow covering this flat ground at the top of everything. As a conqueror, I had reached my destination alone. Standing here, at the intersection of these two immense valleys, dominating the world with an infinite view on either sides, time seemed to stop while I laid eyes on the marvellous complexity of the natural elements. Eastbound, the view opened up on the great West Fork Glacier (Unit 23). Behind me, the moonscape – as I'd named it earlier – was still there waiting for me to return. It had now completely swallowed my tent. All one could see were the black carpet of small rocks wrapping up the valley. But the carpet wasn't flat, it was made up of a myriad of waves, small hills that take hikers on a never-ending dance, up and down, until it rolled out at the foot of the valley, opening up on a vast wasteland of new rocks piling up until the horizon.
At some point, I had to go down. I had to accept that this was the end. I had done the hard part already. And what was left to do, finding the tent, getting a good night sleep, reaching the base of the valley to set up camp for Night 5, walking all day across Unit 13, setting up camp for Night 6, walking all day to reach Mt Eielson Visitors Center and, finally, jumping in the bus which would take me back to civilization, all this was... insignificant. I had never cared for returns. All that ever mattered to me was the conquest of uncharted territory, the exploration of newness and the struggle to overcome the obstacles on my way. To put myself through hardships in order to grow a stronger and more capable human being. That was the epiphany in a Nietzschean world. What else is there to do anyway? All that is still, stagnates, rots and ends up weak. I hear you already! In the end, we all die so none of this matters...
I disagree. We can create and do in a way that influences the world for eternity. All it takes is reminding ourselves of what is more important. And then go for it, selflessly, and with more energy that we ever thought possible.